For this recipe you need about 5 minutes. However, it only works with a very good blender: I use the Vitamix*, others swear by the Thermomix.
INGREDIENTS for 1 GLASS OF 475ml
200 g dates
300 ml still water
juice of 1/2 lemon
set aside a clean glass jar with a screw cap, preferably rinsed with boiling water and drained.
Have a dough scraper ready.
Place 200 g pitted dates in a stand mixer.
4. Measure out 300 ml still water and add. Add the juice of 1/2 a lemon.
Start the blender on low speed and then increase the speed. Switch off the blender when the mixture has turned light brown and has a consistency like applesauce. No more date pieces should be visible.
Using the dough scraper, pour the date sweetener into the jar and then store in the fridge.
The jar will keep for about 2 weeks in the fridge and can be used to sweeten yoghurt, cakes, dressings and sauces. You can read more about it in this blog post: Sugar and me – a love-hate relationship.
By the way: I made the date sweetener with a blender today! It's also great, I just pitted the dates and cut them once in the middle and then three times across; then I soaked the dates in the 300ml of water until they looked quite softened and were very soft; everything in a higher container – puree – done & mega-great!!!! So you don't necessarily need a PowerMixer" writes Body Reset participant Regina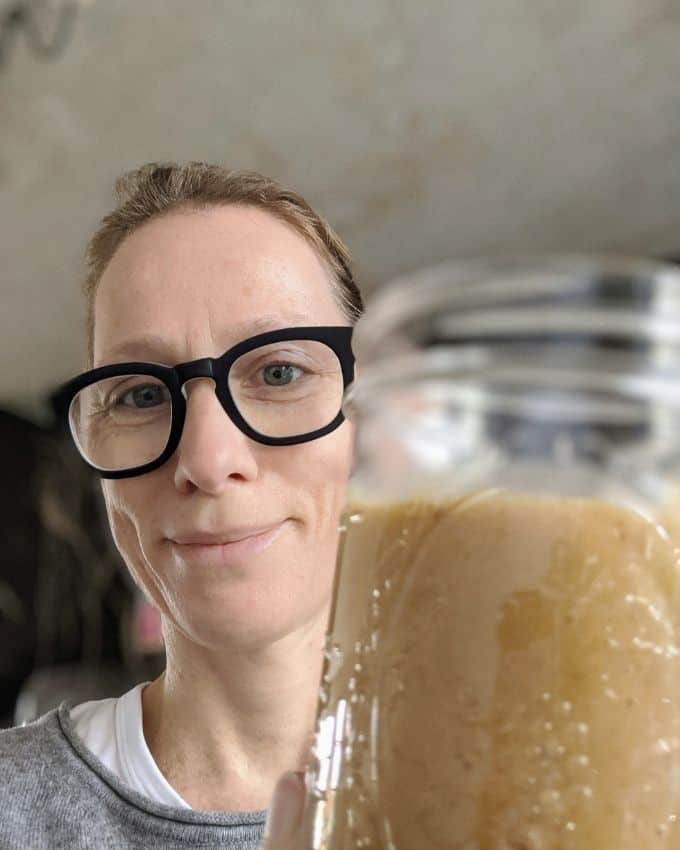 All links marked with * are "affiliate" links. If a purchase is made via such a link, I will receive a commission (example: book Hormone Diet 1,33€). There are no additional costs for you. But Amazon has to give a part of its profit to me. Where, when and how you buy a product is of course up to you, and yes, I also try to buy as much locally as possible.