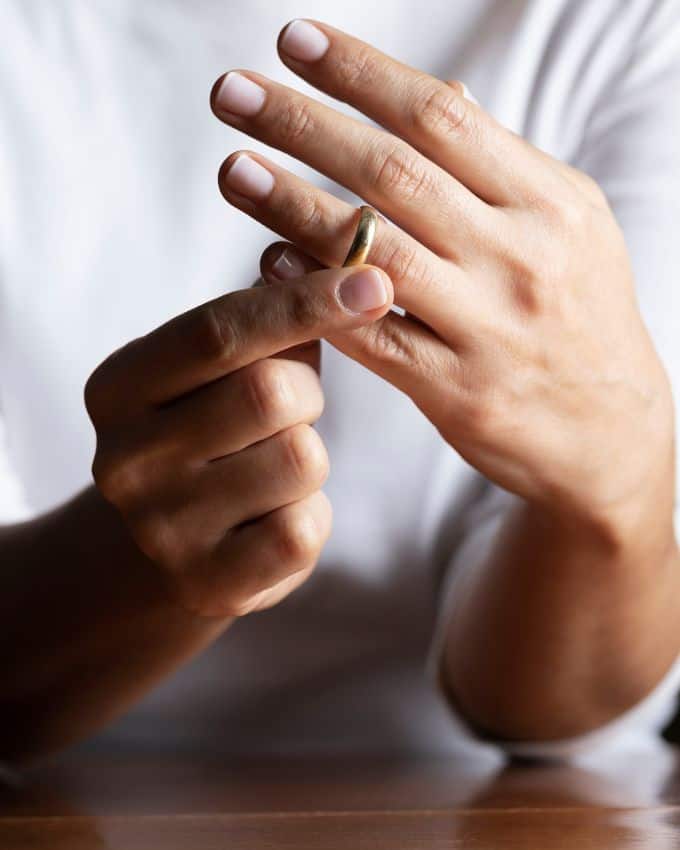 Not that we haven't suspected it for a long time, but now a new survey confirms the influence the menopause can have on relationships. The publication of the results comes just in time, because this news reached me the same night as the SpiegelTV report "Menopause for beginners – freedom instead of taboo.
Hello, Susanne!
I am a desperate man who has a wonderful wife who is in perimenopause, but she doesn't want to hear that and just said rubbish.
She lists all the famous symptoms and is 43 years old and 15 months ago I performed a vasectomy so she could come off the pill.
15 months later, she's just putting everything on the line.
-Our 23-year relationship, whether it's filled with two wonderful children
-her friends
-her past actions?
She told me four weeks ago that she doesn't know if she wants it all anymore and needs distance.
I have been moving out for a fortnight now to give her the distance she needs and I don't know what to do anymore.
No matter what I do, she perceives it as provocation.
My only wish is for her to have a hormone test so that she can be helped.
It's not the first time I've been asked about this by a perplexed man. I've looked at it before and written about it in this article: If this goes on, we'll break up.
If you have an idea what he could do, then please write the message to hello@nobodytoldme.com or simply via WhatsApp directly here. I will then forward it unfiltered.
In fact, survey results were recently published to investigate just that: Does hormonal change in women have an impact on relationship strife, separation or even divorce?
The survey was launched in June 2022 to identify trends and findings about the impact of menopause (including perimenopause) on divorce or separation. More than 1,000 women participated in the survey. The participants were all women who have either gone through or are going through divorce and have gone through or are going through menopause.
And lo and behold, the menopause has a definite and negative impact on divorce, separation and relationships.
The survey, conducted by The Family Law Menopause Project and Newson Health Research and Education, states that 7 out of 10 women (73%) who responded blame menopause for the failure of their marriage.
A further 67% of the 1,000 women who participated were concerned that domestic violence and arguments were increasing as a result.
Unfortunately, only a fifth of these women had accessed support to talk about perimenopause/menopause because they did not believe it was contributing to relationship breakdown at the time.
With an estimated 13 million menopausal women in the UK alone, one in four of whom suffer severe symptoms, these figures paint a bleak picture. It is believed that 9.5 million marriages and relationships in the UK are at risk due to women's hormone deficiency. At the same time, the link between the two is not fully understood or acknowledged.
The study also shows that despite the fact that almost 80% of respondents admitted that their perimenopause/menopause symptoms were a burden on their children and/or family life, only one third of all women were offered treatment or hormone replacement therapy to alleviate their symptoms, despite this being the optimal treatment – according to UK guidelines.
With the perimenopause starting in the mid-40s, the average age of menopause being 51, and divorce peaking between the ages of 45 and 55, these findings highlight the need for awareness and have been published to open up the conversation, offer advice and encourage women to seek help and support.
The study also reveals major gaps in the understanding of family lawyers who support couples during their divorce.
The majority (86 %) of respondents said they did not feel comfortable bringing up the subject of perimenopause/menopause in discussions with their lawyer.
Almost 8 in 10 (76%) felt that family lawyers and judges need to be trained on menopause so that they know how to deal with it sensitively and consider it in their cases. One of the aims of The Family Law Menopause Project is to raise awareness in the family law community about the impact of menopause, both in general terms to ensure that they provide the best possible service to their clients, and so that family lawyers can ensure that their advice leads to a fair financial outcome for women clients as they approach retirement. (Source: simply translated quickly based on this publication)
More knowledge certainly helps. Personally, I don't think a hormone test as requested above can save a marriage. But maybe the result will help to better understand what is going on. And maybe after so many years on the pill with overriding of one's own hormone metabolism, the true personality of the partner has now come through after a long time. Life is one big change. We don't always like what's happening.
Now I'm curious to see if I get any mail to pass on.
Survey Podcast: Divorce, perimenopause and menopause with Farhana Shahzady
These two messages reached me as a recommendation for the man:
"Good morning Susanne,
unfortunately I have no real advice for the desperate husband.
I can only say from my experience that premenopause (for me, I am 46 years old) makes my desires, needs more unfiltered visible and I don't go against it anymore. It feels real and unflattering.
There are big changes ahead for me too but they will be just fine for everyone and especially for me.
It has been 5 years since I came to this realisation and your community, blogs, emails just do it good.
Thank you for that 💛
Have a great Sunday and best regards Susan"
"Dear WhatsApp man,
I like that you are concerned about your wife and especially that you are looking for competent help.
I wish you to take good care of yourself now, i.e. look at your part in all this, reflect and heal.
We can only change ourselves, never the other.
This is bad news and damn good news at the same time.
When you take care of your part in what led to the situation, you take responsibility for what you want from your wife right now.
There are so many ways to do that.
Family constellations come to mind.
Talking to a medium or a coach.
I imagine your wife would appreciate it enormously if you actually did something.
And not just wait for her to "fix" herself.
What a great opportunity for both of you!!!
Best wishes from Switzerland
Christine"
"Hello Susanne!
I don't think it's quite that simple to blame only the hormones for the failure of relationships. I'm sure they have their part to play, but it was very similar for me. I suddenly couldn't smell my husband anymore. We had been together for 18 years and have two great children. The separation was 8 years ago. I couldn't explain this myself and the many other symptoms. As I know now, thanks to you, it was the hormones. They were hard years. Today I know that it was a maturing process and I live "MY life"!
So I can only advise this man: to respect his wife and let her have the time she needs and to stand by her side if she wants it. As well as his children. If my husband had said it was the menopause, I would have thought he wasn't taking me seriously. It is a development that takes time. Offer help and show understanding, that's what I would advise.
Kind regards
Susanne"