"I am eternally thankful for the comprehensive, positive change in my life which I've been profiting from since March."
I've been following the BODY RESET principle and completely accepted the key rules into my life (however, I'd be more than happy to refresh everything the next time around).
More specifically, in my case that means: Since March I did not consume any caffeine, not red meat, no dairy products (the only exception: some parmesan with the ribollita), alcohol only on occasions (1x per week), only the smallest amount of sugar (only which is in dark chocolate and in some salad dressings, these only work with Balsamico and a dash of currant jam!). Sometimes I do eat grains in the form of bread, i.e. a slice of bread every few days. Something I do indulge it from time to time is pasta – and I do that confidently. I have tried a multitude of alternatives which are all fine (e.g. made from lentils, chickpeas, etc.) but nothing comes close to real pasta. While I found it amazingly easy to let go of caffeine or dairy products, I cannot and do not want to imagine what life without pasta would be like… But the same goes for all my beloved vegetables, which I miss immediately if I fail to eat my 500 g of it each day.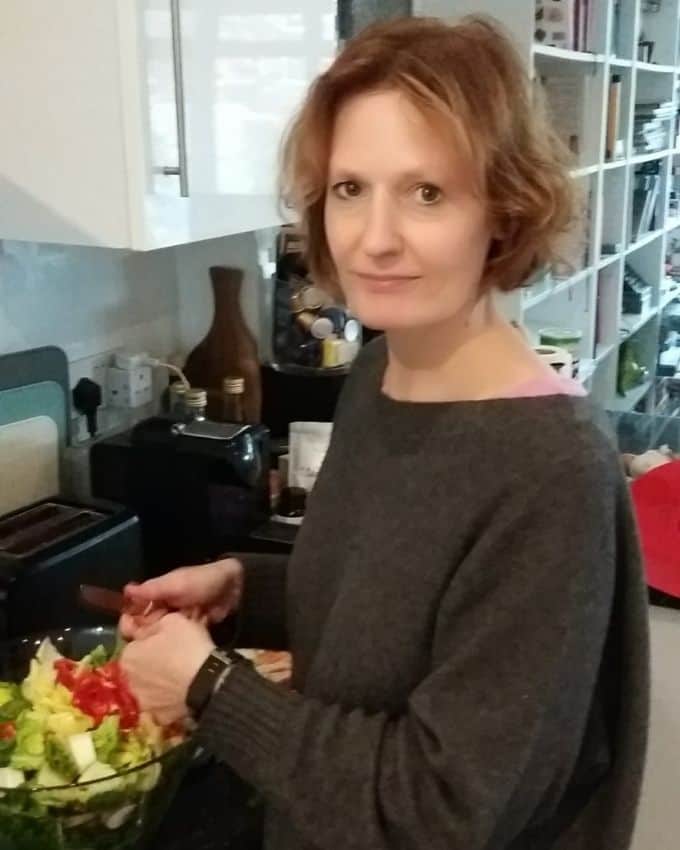 Since spring it's been raining compliments from all sides for my radiant appearance, and I feel great all around. Personally, the best thing is that my wardrobe suddenly became three times its previous size. All the clothes that have been rotting away for years, because they've been too small – everything fits again, and easily so, it's amazing!!! In numbers:
I started with a waist circumference of 83cm (oh God…), now I'm at 66cm.
Something that's exceptionally good about the BODY RESET diet is that it works sustainably for a long time. That means that I don't have to suffer through anything, I don't need discipline or sacrifices but I eat tasty food and enjoy what's good for me. Food cravings disappear as soon as you're away from sugar, and there are no feelings of hunger at all. Throughout my perimenopause I followed a 5:2 intervall-fasting diet, quite successfully, but that required a lot of willpower, effort, stamina, and discipline, and at one point I couldn't do it anymore or in other words, I ate my way through the fridge at 10 pm after feeling weak and suffering from headaches the whole day prior. Not a sustainable solution!! That's what I found now with the BODY RESET programme, or rather, the 80:20 version of it.
What might have made it easier for me than for others was that I haven't been drinking coffee for years and it wasn't hard for me to switch from black to green tea. Also, just like Stefanie, I've always liked eating vegetables and salads and it has been a welcome opportunity to eat even more of it.
I'm always recommending the course, so I hope that this will bring you new participants and fans. If not now, maybe in the future.
Oh, and something about family-suitability: in my household, my partner and son eat with me a lot of the time. Sometimes there needs to be some special treatment (or as we say in German: an 'Extrawurst') for one or even both of them, but my boyfriend loves the ribollita, my son is a big fan of the vegetable soup. I'm always looking for new recipes that work for all of us and I'm sure that there will be a ton of input in the WhatsApp group!
"I am eternally thankful for the comprehensive, positive change in my life…"
I am eternally thankful for the comprehensive, positive change in my life which I've been profiting from since March – just like so many other people in this great community you created.
Have a great weekend!!
Only three more days until Tuesday, yay!!!
Sophia